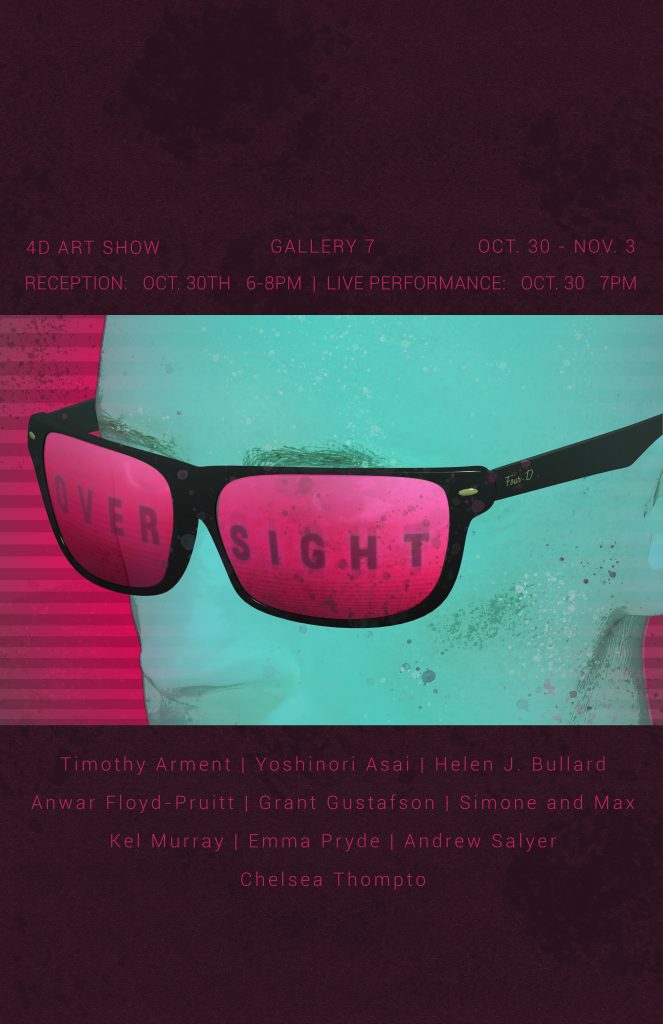 o·ver·sight
noun
1. All-encompassing sight.
2. A view from above; a panoramic view; a prospect.
3. The action of overseeing something; supervision, inspection; authority, management
4. The action of passing over something without seeing or noticing it; unintentional failure to notice or act on something; the fact of having been overlooked or neglected in this way; negligence, inadvertence.
5. An accidental omission; a mistake made through inadvertence or negligence.
6. A group exhibition of 11 artists working in the 4D area at UW–Madison.
______________________________________________

RECEPTION: Monday, October 30 | 6-8pm | Gallery 7
LIVE PERFORMANCE at 7pm
Exhibition on view: October 30 – November 3
______________________________________________
ARTISTS:
Timothy Arment
Yoshinori Asai
Helen J. Bullard
Anwar Floyd-Pruitt
Grant Gustafson
Simone and Max
Kel Murray
Emma Pryde
Andrew Salyer
Chelsea Thompto